Submitted on September 26, 2012 - 12:00pm
The Nisqually Earthquake in 2001 changed the focus of Professor Philip Govedare's paintings. He was at the College Art Association conference in Chicago during the earthquake. On television, he saw the historic brick building at 2nd Avenue and Jackson Street being used as an example of the structures that were badly damaged by the quake. His painting studio was in that building.
For many years, Govedare's paintings had been essentially abstract, but he had been thinking about a return to working from nature. The temporary lack of a studio turned his musings into a reality. Govedare started with the Duwamish Waterway because, he says, "it was visually compelling, but also because it represented an interesting narrative of transformation. It was a site that had been dramatically altered through dredging, industry, and environmental degradation. Originally, it was a thriving ecosystem and rich fishing ground for the Duwamish tribe; today it is a highly toxic environment with extensive chemical contamination and has been designated a Superfund site."
Govedare's landscape interests have since shifted to the drier climates of high desert with color and light more closely resembling where he grew up in eastern Oregon. In January 2010, he was awarded a University of Washington Royalty Research Fund Scholar grant. His proposal was titled "Prehistoric and Post-Apocalyptic Landscape." The grant allowed him to spend time in Utah soaking up two locales. Canyonlands National Park, which he describes as "dramatic, otherworldly, and monumental in scale and distance," is largely untouched by humans, while the Bingham Canyon Mine is the largest open-pit copper mine in the world and the largest man-made canyon on earth (three-quarters of a mile deep and nearly three miles across). Govedare says, "The sheer scale of this reconfiguration of the land was of particular interest to me, as was the intricate and elaborate terracing and winding roads that come from the process of removing earth for mineral extraction." After making numerous drawings of these landscapes, he returned to his studio to create paintings. With an aerial viewpoint and manipulated perspective, he created largely fictional and imaginary landscapes. He says, "This was a critical period for the development of my work."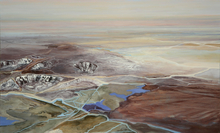 These new themes in Govedare's paintings resulted partly from the people and ideas he has encountered through the Association of American Geographers (AAG). Kathleen Woodward, Director of the University of Washington Simpson Center, suggested Govedare participate in the Geography and Humanities Symposium sponsored by the AAG, which took place at the University of Virginia in 2007. The experience helped him "realize how interdisciplinary the field of geography is, and how many people were thinking about landscape, nature, and environment in ways that informed my work." In 2011, when the AAG met in Seattle, Govedare participated in a session titled "Landscape and Creative Expression"; his paper was titled "Art and the Politics of Landscape." The AAG met in New York this year, and he again participated. The session was titled "GeoHumanities II: Valuing Wilderness," and his paper was titled "Evolving Interpretations of Wilderness," which took a broader historical look at artistic renditions of landscape and wilderness. Govedare stays in touch with some of the people he has come to know through the AAG, particularly those he first met at the symposium. One example is Richard Wilke, a geography professor at University of Massachusetts, Amherst. Wilke is originally from a part of Idaho where Govedare's parents own a cabin. Wilke and Govedare met up in Idaho this summer and did some exploring of the landscape together. Out of the symposium also came a book, Geohumanities: Art, history, text at the edge of place, which was published in 2011 and includes a short essay by Govedare.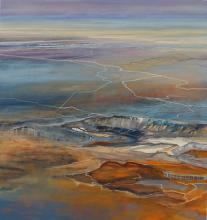 Around the same time that Govedare participated in the AAG symposium, an idea was developing for an exhibition to be curated by Sarah Clark-Langager at Western Gallery, located at Western Washington University. After a few years and a National Endowment for the Arts grant, the exhibit and accompanying catalog emerged in 2010 under the title Critical Messages: Contemporary Northwest Artists on the Environment. Govedare was one of the instigators of that exhibition, and it piqued his interest in other possible shows. This summer, at Prographica in Seattle, he and alumna Kimberly Clark (MFA 2011) co-curated Commentaries: Artists Respond to the Land. He says, "The intention of the show was to feature artists whose work responds to landscape in different ways and through a variety of media." Govedare has also considered "a future exhibition juxtaposing earlier representations of nature from regional museum collections with the work of contemporary artists' views of impacted landscape."
Govedare's thinking about landscape, history, and our relationships to both affects how he approaches teaching. He says, "Something I want students to consider is the knowledge that we bring to our subject and how that influences the choices we make in terms of what we select and how we represent the world. For example, a landscape may be a depiction of a certain place, but what is our relationship individually and collectively to that place? What is its history? How do the conditions of atmosphere, light, temperature, smell and texture, provide a feeling for a place that is more than its description?" Govedare encourages his students in the Painting + Drawing Program to think about art in a broader context: "Art, and painting in particular, is in constant dialog with its past. But it also lives in a world that is very different than that which came before it. To be alive, art must come to terms with its unique moment in history."