Submitted on November 20, 2018 - 12:00pm
Series
The 2019 Critical Issues Lecture Series takes place on Thursday evenings during winter quarter. It is organized by the School of Art + Art History + Design with assistance from the Henry Art Gallery. The general public is invited to sit alongside degree-seeking individuals studying fine art in order to share ideas and raise questions about contemporary art. In addition to the public lectures, undergraduate and graduate students enrolled in ART 361/561 interface with the visiting artists in the classroom and studio.
This year's lectures are supported by The Dale and Leslie Chihuly Foundation and individual donors.
Lectures are free and open to the public. They take place in the Henry Art Gallery auditorium at 7pm.
Schedule + RSVP Links
Date links will take you to the information for that lecture. Registration is not required, but it does help us estimate attendance. Use the RSVP links (now removed) to sign up.
Speakers
January 10 – Maria Nordman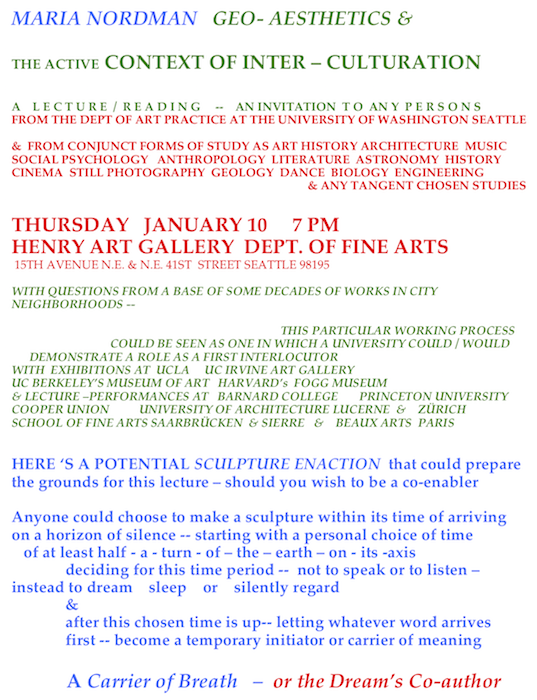 Accessibility
The Henry is a place for all visitors to enjoy, learn, and be inspired. The museum is fully accessible by wheelchair, and strives to provide services and accommodations for anyone who needs assistance. Per the request of this artist, whose work addresses the issues of translation from spoken language to written language, this program will not include Real-Time Captioning. Moreover, the artist would like to give unique pieces of her new publication to individuals who request it. Please notify the staff of particular needs or concerns you may have or to receive this publication.
January 31 – Amy O'Neill
Amy O'Neill was born in Beaver, Pennsylvania. She lives and works in New York and has had numerous solo exhibitions including Swiss Institute, New York; MAMCO, Geneva, Switzerland; Parc Rousseau, Ermenonville, France; Kristina Kite, Los Angeles; Wexner Center for the Arts, Columbus, Ohio; Sculpture Center, Long Island City, New York; Le Consortium, Dijon, France; and PS1/MOMA, Long Island City, New York. O'Neill also has several monographs and artist's books, including Red Headed Stranger (Karma, 2014); Forests, Gardens & Joe's (J & L Books/Centre Culturel Suisse, Paris, 2011); The Old Woman's Shoe (One Star Press, 2009); and Amy O'Neill: Suburban Imagination (JRP Ringier, 2008).
February 7 – Andrea Fraser
Andrea Fraser is an artist whose work investigates the social, financial, and affective economies of cultural institutions, fields, and groups. She is Professor, Interdisciplinary Studio Area Head, and Chair of the UCLA Department of Art. Retrospectives of her work have been presented by the Museum Ludwig Cologne (2013), the Museum der Moderne Salzburg (2015), the Museum of Contemporary Art Barcelona and MUAC UNAM Mexico City (both 2016). Her most recent book, 2016 in Museums, Money, and Politics (2018) — co-published by the CCA Wattis Institute, Westreich/Wagner Publications, and MIT Press — documents the political contributions of the board members of over 125 major US art organizations in the 2016 election cycle and its aftermath, examining the intersection of cultural philanthropy and political finance in the age of plutocracy.
February 14 – Dyani White Hawk, Keith BraveHeart, Micheal Two Bulls
This panel discussion complements the exhibition Lakota Emergence, which is on display at Mobius Gallery (UW Bothell Campus) from January 9 – March 13, 2019. In addition, two symposia with Drs. Dian Million, Chadwick Allen, Danica Miller, and Craig Howe exploring the role of art in Indigenous wellness and the future of American Indian and Indigenous Studies at the University of Washington will take place on Friday, February 15, at North Creek Event Center in Bothell, 1–4:30pm. Learn more. These events are generously supported by the Simpson Center. Additional funding by the UW Bothell Diversity Council and Cascadia College has facilitated the exhibition and symposia.
Dyani White Hawk
As a woman of Sičangu Lakota and European American ancestry, I was raised within Native and urban American communities. My work reflects these cross-cultural experiences through the combination of modern abstract painting and abstract Lakota art forms. Some works are executed strictly in paint, weaving conceptual influences and aesthetics from each respective history. Others accomplish the same intermingling of artistic lineages through stories embedded in materials. Mixed-media pieces combine traditional painting mediums — acrylic, oil, and canvas — with beadwork, porcupine quillwork and other materials common to Lakota artistic traditions.
I strive to create honest, inclusive compositions that acknowledge all parts of my history, Native and non-Native, urban, academic and cultural education systems, and at times conflicting world views. This platform allows me to start from center, deepening my own understanding of the complexities of self and culture, correlations between personal and national history, and indigenous and mainstream art histories.
By highlighting the strength and legacy of indigenous arts within a conceptual painting practice the audience is invited to consider perceived parallel histories as truly intertwined. The complexity of visual and conceptual references encourage conversations that challenge the lack of representation of Native arts and people in the mainstream while highlighting the truth and necessity of equality and intersectionality.
Keith BraveHeart
"There is No Lakota Word for Art. I am only doing what I was born to do."
BraveHeart was one of 28 Lakota artists from around the country to be selected as part of an exhibit at the Journey Museum and Learning Center in Rapid City in March 2019. Hosted by the Center for American Indian Research and Native Studies (CAIRNS), the exhibition will show works about the 1890 Wounded Knee Massacre.
BraveHeart grew up in the small town of Kyle, South Dakota, on the Pine Ridge Indian Reservation of the Oglala Lakota. He developed a passion for art in high school. From there, he went to the Institute of American Indian Arts in Santa Fe, New Mexico, where he received his bachelor's degree. He finished his master of fine arts in painting at University of South Dakota (USD). BraveHeart calls himself a contemporary or modern native artist. His art takes a strong influence from his Native American cultural background. It is important for him to see what happens during that process, leaving it open for things to shift or change around, allowing time for chance to happen.
BraveHeart has spent his time working with young Native American artists through the Oscar Howe Summer Art Institute, and annual art program at USD. Native American students in grades 11 through 12 are given the chance to demonstrate their skills and work with professionals from the area, going on field trips to local museums and cultural facilities.
Micheal Two Bulls
My work focuses on concepts that deal with identity, history and place. These narrative works often draw from aspects of my life, family and experiences. Quite often, Native American people are subjugated to an old idea of who we used to be; or rather, a romantic idea dreamt up in a Hollywood studio or from a fictional book. Major museums and galleries often have a niche section for any racial population, often segregated from the larger body of work which I've felt was an injustice to those artists. Through my work, I strive to break through that barrier by including Native American perspectives, while touching upon universal themes that resonate with a wider audience, so that it can be included in a larger body of work.
When I was a young artist, the community I grew up in relied on a tourist economy which weighed heavy on the stereotypical Native American imagery. It had nothing to do with any current or personal issues many Natives deal with today. Like many other Native artists, I was expected to paint these one sided narratives for a quick dollar. I didn't want to perpetuate the stereotype of the "romantic Indian" for tourists. Nor did I want to perpetuate the stereotype of a "drunk Indian" or anything negatively associated to that degree by the locals. Instead, I took the direction of painting the realities I saw growing up. I chose to paint my ancestors' past experiences (which only goes back a couple generations ago) through a Native American perspective, not through a tourist's romantic perspective.
I want my paintings to start a dialogue with the viewer, engage them on various levels where they can ask questions, be curious and empathize with the work. I believe this work needs to happen in our society, where we can talk about identity, history and place in order to be inclusive.
February 21 – Carolina Caycedo
This program is in conjunction with Carolina Caycedo's visit as a Gurvich Contemporary Art Project artist at the Henry Art Gallery. During her time there, Caycedo will engage in a range of programs that explore the geopolitics of water, collective resistance, and regional narratives that relate to her ongoing project Be Dammed, aspects of which are on view in the current exhibition Between Bodies.
Carolina Caycedo has developed publicly engaged projects in Bogota, Quezon City, Toronto, Madrid, Sao Paulo, Lisbon, San Juan, New York, San Francisco, Paris, Mexico DF, Tijuana, and London. Her work has been exhibited worldwide with solo shows at Vienna Secession, Intermediae-Matadero Madrid, Agnes B Gallery in Paris, Alianza Francesa Bogotá, Hordaland Kunstsenter in Bergen, 18th Street Arts Center in Santa Monica, and DAAD Gallery in Berlin. She has participated in international biennials including Sao Paulo (2016), Berlin (2014), Paris Triennial (2013), New Museum (2011), Havana (2009), Whitney (2006), Venice (2003), and Istanbul (2001). In 2012, Caycedo was a DAAD Artist-in-Berlin resident. She has received funding from Creative Capital, California Community Foundation, Los Angeles Department of Cultural Affairs, Harpo Foundation, Art Matters, Colombian Culture Ministry, Arts Council UK, and Prince Claus Fund.
February 28 – Lizzi Bougatsos
Lizzi Bougatsos is a visual and sound performance artist, writer, and sometimes actor who lives and works in New York City. She is the singer of the band Gang Gang Dance, which has been releasing music and playing shows since the early 2000s and was the founder of noise drum band I.U.D. Bougatsos' solo exhibitions include Work Habits, James Fuentes, New York (2016); I'm Not Pregnant, James Fuentes, New York (2012); Slut Freak, James Fuentes, New York (2010); Solo Exhibition, The Breeder, Greece (2009); Street Feather, James Fuentes, New York (2007); and The Noble and the Land, James Fuentes Gallery, New York (1999). Her work has also been included in two and three person exhibitions at Home Alone 2, New York (2014) and Reena Spaulings Fine Art, New York (2005), as well as group exhibitions at Barbara Gladstone Gallery, New York (2018); The Brant Foundation, Connecticut (2017); Marlborough Chelsea, New York (2015); Andrea Rosen Gallery, New York; and MoMA, New York (2014) among others.
March 14 – Liz Magor
Liz Magor is a Vancouver-based artist who studied at the University of British Columbia, Vancouver; Parsons School of Design, New York; and the Vancouver School of Art. Since the early 1970s, Magor has produced sculptural and photographic works concerned with the latent, affective range of familiar materials, images, and objects.
Her work has been exhibited in major international exhibitions such as Documenta VIII, Kassel; the 41st Venice Biennale; and the 4th Biennale of Sydney. More recently, she has had solo exhibitions at Le Credac, Ivry-sur Seine, France; Peephole, Milan, Italy; the Art Gallery of Ontario, Toronto; The Henry Art Gallery, Seattle; and the Vancouver Art Gallery. In 2016, the Musee d'Art Contemporain de Montreal mounted a 40-year retrospective, which travelled through 2017, first to the Migros fur Gegenwartskunst , Zurich; then on to the Kunstverein in Hamburg; and the MAMAC in Nice. The exhibition was accompanied by a publication from JRP/ Ringier, Zurich. In 2019, Magor will open an exhibition of new work at Carpenter Center for Visual Art, Cambridge, Massachusetts. The exhibition will travel to the Renaissance Society in Chicago accompanied by a publication.
Liz Magor received the Governor General's Award in 2001, the Audain Prize in 2009, and the Gershon Iskowitz Prize in 2014. In 2017/18 she was a guest of the DAAD Kunstler in Berlin Program.
History
The Critical Issues in Contemporary Art Practice lecture series began in 2013. Visit this page for information related to earlier series.