Submitted on November 28, 2017 - 2:00pm
Series
This lecture series takes place over seven Thursday evenings during winter quarter. It is organized by the School of Art + Art History + Design with assistance from the Henry Art Gallery. The general public is invited to sit alongside degree-seeking individuals studying fine art to share ideas and raise questions about contemporary art. In addition to the public lectures, undergraduate and graduate students enrolled in ART 361/595 interface with the visiting artists in the classroom and studio.
This year's lectures are sponsored by The Boeing Company and The Dale and Leslie Chihuly Foundation.
Lectures are free and take place in the Henry Art Gallery auditorium at 7pm.
Registration
Seats may be reserved for individual lectures. Follow the links below to do that.
Speakers
January 11 – Marianne Nicolson (T'ayagila'ogwa)
Marianne Nicolson is an artist activist of Musgamakw Dzawada'enuxw First Nations and Scottish descent. The Musgamakw Dzawada'enuxw Nations are part of the Kwakwaka'wakw (Kwak'wala speaking peoples) of the Pacific Northwest Coast. She is trained in traditional Kwakwaka'wakw forms and culture as well as contemporary gallery and museum based practice. She holds a BFA from the Emily Carr University of Art and Design (1996), an MFA from the University of Victoria (2005), and an MA and PhD in Linguistics and Anthropology from the University of Victoria (2013). Nicolson works as a cultural researcher and historian for the Kwakwaka'wakw as well as an advocate for Indigenous land rights. Her practice is multi-disciplinary, encompassing photography, painting, carving, video, installation, monumental public art, writing, and speaking. All her work is political in nature and seeks to uphold Kwakwaka'wakw traditional philosophy and worldview through contemporary mediums and technology. Exhibitions include the 17th Biennale of Sydney, Australia; The Vancouver Art Gallery; The National Museum of the American Indian in New York; Nuit Blanche in Toronto, Ontario; and many others. Major monumental public artworks are situated in Vancouver International Airport; the Canadian Embassy in Amman, Jordan; and the Canadian Embassy in Paris, France.
January 18 – Cassils
Recent solo exhibitions of Cassils include: "Monumental" at Ronald Feldman Fine Arts, New York; Philadelphia Academy of Fine Arts; School of the Museum of Fine Arts Boston; Bemis Center, Omaha; MU Eindhoven, Netherlands; and Trinty Square Video, Toronto. Cassils is the recipient of a COLA Grant (2017), Guggenheim Fellowship (2016), and a Creative Capital Award (2015). Cassils' work has also been featured at the Schwules Museum*, Berlin; Institute for Contemporary Art and The National Theatre, London; MUCA Roma, Mexico City; Yerba Buena Center for the Arts, San Francisco; Los Angeles Contemporary Exhibitions; Utah Museum of Contemporary Art, Salt Lake City; ANTI Contemporary Performance Festival, Kuopio, Finland; Museo da Imagem e do Som, São Paulo, Brazil; Museo de Arte y Diseño Contemporáneo, San José, Costa Rica; and Deutsches Historishes Museum, Berlin. They have also received the inaugural ANTI Festival International Prize for Live Art, Rema Hort Mann Visual Arts Fellowship, California Community Foundation Grant, MOTHA (Museum of Transgender Hirstory) award, and Visual Artist Fellowship from the Canada Council of the Arts.
January 25 – Julia Heyward
Julia Heyward, sometimes known by the moniker Duka Delight, is an artist who has consistently strived towards an emotive, textured, and unapologetically demonstrative approach to her preferred medias of video, performance, and photography. She graduated with a BFA from Washington University, St. Louis, and participated in the Whitney Independent Study Program in 1973. She received an MFA from the Department of the Arts at Rensselaer Polytechnic Institute in 2003. In 1984, Heyward was one of the first artists to win the inaugural New York Dance and Performance Award known as the Bessie. She was nominated for a Herb Alpert Award in the Arts in the field of music composition in 1995, and in 2004–05 for film/video production. She received a Guggenheim Fellowship in Multimedia in 1999 as well as awards from the Rockefeller Foundation, The Greenwall Foundation, the New York State Council on the Arts, and the National Endowment for the Arts, among others. Her video work, performances, installations, and interactive projects have been exhibited internationally at such venues as the Whitney Museum of American Art, The Kitchen, Lincoln Center, and Anthology Film Archives in New York City; The Daejeon Municipal Museum in Korea; Art Interactive, Boston; Centro de la Imagen, Mexico City; and the Künstlerhaus Stuttgart. Her first monographic study, Consciousness Knocks Unconscious, was curated by Jamie Stevens for The Wattis Institute for Contemporary Art, San Francisco, in 2014.
February 8 – Raha Raissnia
Raha Raissnia is an artist whose practice encompasses painting, drawing, filmmaking, and performance. Creating layered works in various mediums, her performances have involved projecting films and slides onto her large paintings with musical accompaniment. Raissnia has collaborated with musicians such as Charles Curtis, Briggan Krauss, Dalius Naujo, Panagiotis Mavridis, and Aki Onda. Raissnia's work has been the subject of solo exhibitions at Miguel Abreu Gallery, New York, and Galeria Marta Cervera, Madrid. Her work has been included in group exhibitions at Miguel Abreu Gallery; the Heimbold Visual Arts Center, Sarah Lawrence College; and White Columns. Raissnia's film screenings and performances have taken place at venues including ISSUE Project Room, The Kitchen, The Stone, The Firehouse Space, Dundee Contemporary Art Festival in Scotland, and the 56th Venice Biennale. Raissnia received a BFA from the School of the Art Institute of Chicago (1992) and an MFA from Pratt Institute (2002). She has been an Adjunct Professor of Drawing at the City College of New York and Parsons the New School of Design. Her exhibition at the Drawing Center, New York, opens on February 4, 2018.
February 15 – Irena Haiduk
Irena Haiduk is Against Biography.
February 22 – John Neff
John Neff produces artworks, organizes exhibitions, and works as a teaching artist. He currently serves as a curatorial board member at Chicago's Iceberg Projects and as co-director of the Ravenswood Elementary School Curatorial Practice Program. Neff presented his photographic work in a 2013 solo exhibition at Chicago's Renaissance Society and has participated in exhibitions at Donald Young Gallery, MCA Chicago, Night Club, and The Philadelphia Museum of Art.
March 8 – Carolyn Lazard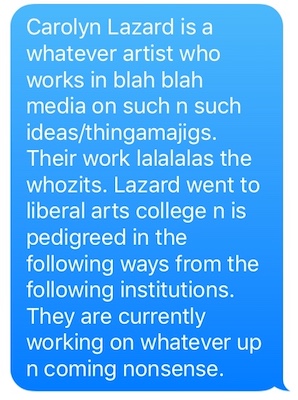 History
The Critical Issues in Contemporary Art Practice lecture series began in 2013. Visit this page for information related to earlier series.